The Fort Worth Thyroid Center at Fort Worth ENT & Sinus is dedicated to providing comprehensive treatment plans for all of our patients with thyroid diseases. Our thyroid experts specialize in treating all manners of thyroid and parathyroid disorders, including: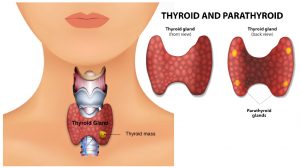 Hypothyroidism/Hashimoto's disease
Hyperthyroidism/Grave's disease
Thyroid cancer
Goiters
Thyroid nodules and cysts
Thyroiditis/postpartum thyroiditis
Conservative Treatment at Fort Worth Thyroid Center
While thyroid surgery is sometimes the best option, our thyroid specialists treat every patient with the most conservative treatment that will produce the most effective results for his/her condition. Conservative thyroid disorder treatments may include:
Antithyroid medications
Beta-blockers
Radioactive iodine
When thyroid surgery or parathyroid surgery is necessary, your thyroid surgeon can typically perform a minimally invasive thyroid surgery which requires a very small incision that is hardly visible when placed at the natural crease of the neck. Our team's primary goal in any thyroid procedure is a safe and successful outcome. Other goals of thyroid surgery include:
Minimal discomfort
Least possible scarring
Seamless transition into resuming normal daily activities
While complications with thyroid surgery are not common, it is best to select a surgeon who has extensive training and experience with thyroid surgery, such as those at Fort Worth ENT. Be sure to ask your surgeon how many thyroid surgeries he/she performs each year. An expert thyroid surgeon expects and is prepared for such questions and certainly will not be offended.
The thyroid surgeons at Fort Worth ENT have over three decades of collective experience treating thyroid disorders and performing thyroid surgeries and are highly respected by other professionals in the otolaryngology community.
Diagnosing and Treating Thyroid Disorders
Prior to any thyroid treatment, the Fort Worth Thyroid Center specialists will utilize state-of-the-art diagnostic equipment to identify the problem and plan your personalized treatment. A complete thyroid function panel will be administered to help evaluate thyroid functionality and measure hormone levels in the blood.
A thyroid panel typically includes testing for:
Free thyroxine (free T4)
Thyroid-stimulating hormone (TSH)
Total or free triiodothyronine (total or free T3)
Your Fort Worth thyroid specialist may also recommend thyroid testing for calcitonin, thyroid antibodies,thyroglobulin, and TBG (thyroxin-binding globulin), as well as perform an ultrasound and/or needle biopsy to help determine the presence and extent of the thyroid disorder.
If you are experiencing symptoms of a thyroid disorder and are looking for a thyroid professional to help manage your treatment, contact the thyroid experts at the Fort Worth Thyroid Center for a comprehensive evaluation.
If you would like an appointment with one of our physicians at Fort Worth Thyroid Center please complete an online appointment request or phone 817-332-8848.