Sleep Medicine: Sleep Apnea or Snoring
Sleep medicine is a medical sub-specialty which is comprised of the study and therapy of sleep disorders and disturbances, such as snoring and sleep disordered breathing (SDB). Sleep disordered breathing occurs when a patient's upper airway is obstructed during sleep and is characterized by lack of adequate ventilation and abnormal respiratory patterns (apneas/hypopneas).
An apnea presents when a patient ceases breathing for 10 seconds or longer and awakens in order to take a breath. Hypopnea occurs when a patient experiences shallow breathing with at least a 30% decrease in airflow for 10 seconds or longer in association with oxygen desaturation.
Obstructive Sleep Apnea:
Snoring vs. Sleep Apnea
Snoring is a common sleep disorder which affects approximately 90 million Americans, including 20% of men and 10% of women by age 20. By age 60, snoring increases in intensity and frequency and affects close to 60% of men and over 35% of women. Simple snoring does not generally present a health risk in most people, however, 10-15% of patients who snore and 25-35% of disruptive snorers (those who disrupt a sleeping partner) actually suffer from sleep apnea. Over 50% of people who experience an interruption in breathing have sleep apnea.
Symptoms of Obstructive Sleep Apnea (OSA)
Obstructive sleep apnea is the most common form of sleep apnea, reportedly affecting more than 30% of men and almost 20% of women, and can be a potentially life threatening disorder. Loud snoring is the main symptom of OSA. While all patients with OSA experience snoring, not all snoring indicates OSA.
A patient with sleep apnea generally stops breathing anywhere from 10 to 60 seconds at a time. Occurrences of up to 5 per hour are usually not considered to be dangerous. Over 5 breathing cessations per hour is abnormal, and over 10 can pose serious health risks.
Patients with sleep apnea typically feel tired after getting a full night's sleep. Other symptoms of sleep apnea include: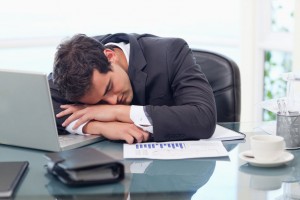 Gasping, choking, or shortness of breath which awakens the patient
Morning headaches
Hypersomnia (excessive daytime sleepiness)
Difficulty concentrating and forgetfulness
Fatigue
Dry mouth or sore throat upon awakening
Irritability or moodiness
Weight gain
Sleep Disordered Breathing (SDB)
Types of sleep disordered breathing include:
Obstructive sleep apnea (OSA): Upper airway becomes fully or partially closed, but patient continues to make efforts to breath.
Central sleep apnea (CSA): Airway is open but patient ventilatory drive is compromised.
Mixed sleep apnea, also known as complex sleep apnea syndrome: Patients display symptoms of both OSA and CSA.
If you have any issues with snoring or possibly obstructive sleep apnea, please schedule an appointment with one of our physicians at Fort Worth ENT & Sinus by completing an online appointment request or phone 817-332-8848.